Injectables
Bellafill
Bellafill's tiny, polymethyl methacrylate (PMMA) microspheres are suspended within a base of smooth collagen gel. Once injected, the collagen gel immediately reduces the look of smile lines. Over time, your body uses the microspheres in Bellafill to create a "scaffold" onto which your own natural collagen can develop. This collagen forms a foundation that adds volume to wrinkles, reducing their appearance – and giving you natural-looking results that feel soft and smooth for up to 5 years.
Bellafill is the only dermal filler FDA approved to be a safe and effective for up to 5 years. It Starts working immediately, and continues to add volume over time.
Bellafill fades acne scars by adding volume to them, bringing them to the level of the surrounding skin and keeping them there long-term. Unlike hyaluronic acid fillers, which often dissolve within a few months, Bellafill creates a lasting improvement in your skin. It restores rather than just fills for natural-looking, enduring results.
It is FDA approved to safely and effectively treat acne scars and keep them away for up to 1 year. 90% of patients who used Bellafill® to treat their acne scars were still satisfied with their results at the 1-year mark.
Juvederm®
What is Hyaluronic Acid?
Hyaluronic acid, or HA, is a natural substance in the body that delivers volume to the skin. Modified HA is the main ingredient behind JUVÉDERM®. Getting treated with JUVÉDERM® helps add volume to different areas of the face without surgery while also temporarily restoring the volume loss beneath the surface.
What is JUVÉDERM VOLUMA® XC?
As you age, the cheeks may flatten and the skin may begin to sag. This is caused by natural loss of volume in the cheek area, or what the experts call age-related midface volume loss. JUVÉDERM VOLUMA® XC is designed to add volume beneath the skin's surface, which provides lift and contour to the cheek area.
How long does JUVÉDERM VOLUMA® XC last?
JUVÉDERM VOLUMA® XC provides natural-looking and long-lasting results that last up to 2 years with optimal treatment.
What are the potential side effects of JUVÉDERM VOLUMA® XC?
The most common side effects included temporary reactions at the treatment site such as tenderness, swelling, firmness, lumps/bumps, bruising, pain, redness, discoloration, and itching. Side effects were moderate (uncomfortable), and generally lasted 2 to 4 weeks. As with all skin injection procedures, there is a risk of infection.
How does JUVÉDERM VOLUMA® XC work?
Over time, due to aging, wrinkles develop on your face, and nasolabial folds may become more visible. JUVÉDERM VOLUMA® XC is designed to temporarily add volume to the facial wrinkles for a smoother appearance to the face. The lidocaine in the gel improves the comfort of the injection by reducing sensitivity to pain.
What is JUVÉDERM® XC?
First approved by the FDA in 2006, JUVÉDERM® XC corrects moderate to severe facial wrinkles and folds, such as the parentheses lines or "smile lines" around the nose and mouth. JUVÉDERM® XC is injected into areas of facial tissue where moderate to severe facial wrinkles and folds occur to temporarily add volume to the skin, which may give the appearance of a smoother surface.
What is JUVÉDERM® Ultra XC?
JUVÉDERM® Ultra XC is an injectable gel that temporarily adds more fullness and plumps thin lips—whether your lips have thinned over time or you simply want fuller lips—in adults over the age of 21. JUVÉDERM® Ultra XC is also approved for smoothing and correcting moderate to severe parentheses lines, such as nasolabial folds (smile lines around the nose and mouth), in adults.
Restylane® Lyft
The first and only hyaluronic acid filler FDA-approved to treat your face and hands
Help complete your aesthetic look with natural-looking volume in your cheeks and hands for a smoother, fuller appearance.1 Restylane® Lyft is a safe, effective and dissolvable HA filler.3 Treatment can be administered in your hands and face at the same appointment — and can result in a more youthful-looking appearance.
Over time, natural fat begins to deteriorate, resulting in sagging skin, more prominent wrinkles and a reduction of volume. Restylane Lyft, formerly known as Perlane-L®, is an injectable hyaluronic acid gel used to correct volume loss and treat wrinkles in the face and hands. Through nonsurgical injections, Restylane Lyft is specifically designed to add fullness to the cheeks, midface area, and the back of the hands to help complete your aesthetic look — for face and hands.
Kybella®
KYBELLA® is the only FDA-approved injectable treatment that destroys fat cells in the treatment area under the chin to improve your profile.
KYBELLA® MAY BE RIGHT FOR YOU IF:
You're bothered (unhappy, self-conscious, embarrassed) by fat under the chin, also known as submental fullness
You feel the condition makes you look older or heavier than you actually are
You don't want to have surgery
You eat well and exercise, but submental fullness does not go away
How KYBELLA® works?
The active ingredient in KYBELLA® is synthetic deoxycholic acid. Deoxycholic acid is a naturally occurring molecule in the body that aids in the breakdown and absorption of dietary fat. When injected into the fat beneath the chin, KYBELLA® destroys fat cells, resulting in a noticeable reduction in fullness under the chin. Once destroyed, these cells can no longer store or accumulate fat, so further treatment is not expected once you reach your desired aesthetic goal.
Sculptra®
Sculptra® Aesthetic works subtly and gradually over time for a more youthful-looking appearance. Unlike hyaluronic acid (HA) fillers, Sculptra Aesthetic helps stimulate your skin's own natural collagen production to help restore its inner structure and increase facial volume that has been lost to aging.1-3Sculptra Aesthetic is intended for use in people with healthy immune systems as a one-time treatment regimen of up to four injection sessions that are scheduled about three weeks apart.
Radiesse®
RADIESSE® and RADIESSE® (+) are dermal fillers that are used for smoothing moderate to severe facial wrinkles and folds, such as nasolabial folds (the creases that extend from the corner of your nose to the corner of your mouth). RADIESSE® is also used for correcting volume loss in the back of the hands.
Who should not use RADIESSE® or RADIESSE® (+)?
You should not use RADIESSE® or RADIESSE® (+) if you have an allergy to any component of the product, if you have a history of severe allergies, if you have a bleeding disorder, or if you are pregnant or breastfeeding. You should not use RADIESSE® (+) if you have an allergy to lidocaine or medicines like it.
Neuromodulators
Xeomin®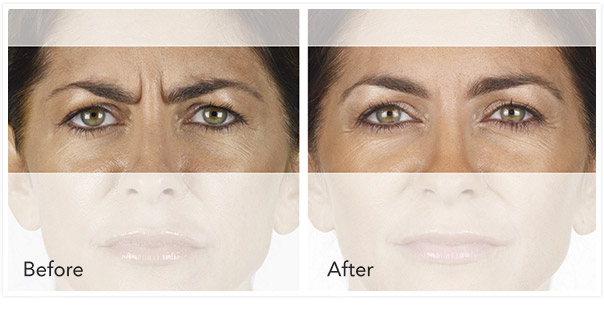 Xeomin® is made through a unique precision manufacturing process that isolates the therapeutic component of the molecule and removes the accessory proteins that don't play an active role in treatment. Xeomin® is a highly purified neurotoxin. Studies have not been performed to determine whether the presence or absence of accessory proteins has a long-term effect on safety or efficacy.
FDA APPROVED. CLINICALLY PROVEN.
Frown lines form when facial expressions are made as the muscle under the skin contracts. Over time, as your skin ages, these repeated expressions cause lasting frown lines. Neurotoxins, such as Xeomin®, are prescription medications that block the release of chemicals that cause these muscle contractions so frown lines are softened.
Dysport
Dysport is a natural-looking, fast-acting, long-lasting prescription injection proven to help smooth moderate to severe frown lines between the eyebrows—without changing the look or movement of the rest of your face.
Dysport treats moderate to severe frown lines between the eyebrows by reducing specific muscle activity.
Wrinkles are caused by repeated movements and muscle contractions.7 One injection into each of the 5 points between and above the eyebrows temporarily prevents muscle contractions that cause frown lines.
In other words: natural-looking results that look and feel like you.
Jeuveau®
Jeuveau® is an injectable treatment that works to temporarily improve the appearance of moderate to severe frown lines in adults.
How does Jeuveau® work?
Jeuveau® prevents your nerves from telling your facial muscles to flex. The result? In clinical trials, Jeuveau® was shown to temporarily improve the appearance of moderate to severe frown lines. In 2 long-term safety studies, patients received an average of 3 treatments over the course of 1 year.
Botox
How BOTOX® cosmetic works?
A combination of factors can cause facial lines. It's not just about the cellular changes that may occur, or reduction of collagen, or damage caused by free radicals from the sun and the environment.
Repeated muscle contractions from frowning, squinting, or raising eyebrows cause skin to furrow and fold, gradually resulting in the formation of facial lines. BOTOX® Cosmetic works beneath the surface and temporarily reduces the underlying muscle activity that causes moderate to severe frown lines, crow's feet and forehead lines in adults – to help them look visibly smoother.
Some patients receiving BOTOX® Cosmetic report the injections feel like a pinch. You may begin to notice a visible smoothing of frown lines, crow's feet and forehead lines within 24 to 48 hours, with results lasting up to 4 months for moderate to severe frown lines in adults.
BOTOX® Cosmetic is not a permanent treatment. If you discontinue treatment the moderate to severe frown lines, crow's feet and forehead lines will gradually return.
Financing

CareCredit is different from a regular credit card.
Use it to pay for out-of-pocket expenses not covered by medical insurance, and special financing options are available that you may not be able to get with other cards.
Pay for health, and wellness care at over 225,000 enrolled providers across the nation. Once you've applied, you can use it again and again at any location that accepts CareCredit.
With shorter term financing options of 6, 12, 18 or 24 months no interest is charged on purchases of $200 or more when you make the minimum monthly payments and pay the full amount due by the end of the promotional period. If you do not, interest is charged from the original purchase date.

Gift Cards Available Here:
Methods of Payment Accepted
The Cherry Payment Plan: Flexible payments for any budget.
What is Cherry?
Cherry is a point of sale financing company that offers our patients the ability to get our goods/services now and pay over time through equal monthly payments. You can learn more by visiting Cherry's website.
Patients can get approved with Cherry in under 30 seconds and complete a purchase in a fast and painless way.